--------------------------------------------------------------

Yule Tide greetings, staff, we bring glorious tidings, though it may forever change your view of Christmas, Viscera Cleanup Detail: Santa's Rampage is here for all to enjoy on Steam!

Watch this Trailer of utter perfection to convince you of Santa's dark fallout.


"Tragedy! Santa; the toy giving folk-hero, and purveyor of fine Christmas goods, has had enough. Endless requests from greedy children wanting more and more every year, tax increases, pressure from elf unions, bills, reindeer!
It is your duty, as an employee of Polar Sanitation Inc, to clean up the grizzly aftermath of Santa's bloody rampage. Elves, reindeer and ruined masonry from Santa's brief breakdown are all strewn across his famous workshop.
So don your cap, grab your mop, and get this place sorted out so the company can get a replacement in here ASAP, and restore Christmas for another generation!"

Some of the key elements in this glorious creation are(beyond normal VCD levels):
-Explore Santa's Famous(now infamous) Workshop, many secrets it holds.
-Discover the sad yet ludicrous tale of what went down and led to the Workshop's current state.
-Pick up poor dead physics simulated elves with smiling faces, yes, smiling faces!!
-Hidden Steam-Keys to some truly awesome Devolver Digital games!
-Many interesting interactive items that will surprise and horrify.
-Steam Achievements!
-Ludicrous oddities, and RuneStorm paraphernalia.

You can buy this glorious yet maniacal artifact for just $1.99 right now! Or if you Pre-Order the full Viscera Cleanup Detail game, you get it free!
Pre-Order now!

Otherwise, if you have already Pre-Ordered VCD, be sure to check your Humble Store account for the download!
Here are all the glorious images you must feast your eyes upon.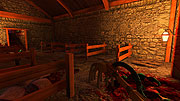 --------------------------------------------------------------
4 Responses to "Viscera Cleanup Detail: Santa's Rampage out on Steam!"