--------------------------------------------------------------

Greetings, noble janitors. I bring news of a terrifying new Viscera Cleanup Detail update, complete with a whole new level; Unearthly Excavation.

With this comes several new features, such as a shovel, sand mechanics, janitor viscera, new crates, a trophy system and a whole bunch of other features and improvements, just see for yourself!:

-Fixed pickup highlighting on bucket water surface
-Fixed pickup highlighting when not using hands
-Turned the 'GRAPHICS TO WASTE' knob down from 11 to 3 on the incinerator fire effects
-Also optimized the fire effect for burning objects
-Added extra fire effects for open incinerator doors
-Moved non-common classes and references to sub-package to prepare for mod support
-Added new Dig-Site map
-Added the Sandtrap actor
-Added new tool: The Shovel
-Added new sand mechanics
-Spare tools now show on back of janitor
-Implemented janitor gibs
-Increased mop and bucket saturation limits (yay!)
-Decreased bucket and bin machine jam rates (yay!)
-Movable dig site light actors
-New crates
-Bloody worker body textures
-Removed slippery areas from Evil Science…for now.
-Fixed med-pack lids behaving oddly after loading.
-Improved Trophy system to store anything you personally put in there.
-Improved janitor trunk to carry over skeletal viscera properly.
-Removed unused 'Use' Key from input bindings.
-Improved punchout system to punish you more accurately. (Doesn't apply to old saves)
-Implemented some extra optional/bonus janitorial tasks [Stacking Areas]
-Fixed fires causing scorch marks underwater.

And a few hideous screenshots to wet your appetite, and your overalls:







Also, we hope to be able to get Mac and mod support into the next update, so stay tuned for that!


And that's everything! Go in blood, noble technicians.
--------------------------------------------------------------

--------------------------------------------------------------

Hi everyone!
Long time, no speak; bad devs! Anyway, we're pleased to report that our game before Viscera Cleanup, Rooks Keep, will hit Steam tomorrow after being Greenlit late last year. We apologize for the time it's taken to get here, but VCD has kept us very busy, as well as more admin than the God of Officework himself!



Right, now as you may know, Rooks Keep has been released and available for the past year, so why Early Access? Well, I shall answer in handy bullet points! Lets see:
[1]: We want to test the new multiplayer functionality and such before a full launch. This is the primary reason!
[2]:Â To test game balance between the characters and modes.
[3]:Â And finally, time to work on Mac and Workshop support.
We wanted to get RK out now in some form rather than waiting until VCD was finished, as we're not exactly sure when that will be! Important to note, is that Rooks Keep is as it was after original release; it's finished, it works, it's a full game. We're choosing to go for a "soft launch" on Early Access basically as a Beta test for the Steam build. We want to make sure we have MP running well and game balance nicely done, as well as workshop support before a full launch. Prices won't vary between the Early Access and full version; it'll still be $15 (or regional equivalent). It won't be on Early Access for long, we anticipate, given how no new content (probably..) will be added; it's feature and content complete.
Also, based on feedback and demand, we'll be seeing about our own dedicated servers for the game.
Oh, and Steam keys will be sent out to various retailers that sold Rooks Keep, so no none will be left out of the new build. Once we're done with Early Access as well, we'll update the builds for the retailers.
There you have it! Leave your thoughts below, and thank you!
--------------------------------------------------------------

--------------------------------------------------------------

A bring (late)news of the most fantastical! Viscera Cleanup Detail is now out on Steam Early Access, version 0.25 no less, for $8.00!

With this update comes 2 new maps, a redesigned punch-out system, various fixes, Multiplayer networking through Steam, DEAD WORKERS!!

If you have already bought the game through the Humble Widget on our site, Humble Store, or any other bundles, you will have received a Steam key.
Also, anyone who has bought Santa's Rampage on Steam already will receive a discount!

Furthermore, purchasing this version on Steam Early Access also gives you a Steam key to the Santa's Rampage AND Shadow Warrior spin-offs.


Here is the general list of changes:
-Steam networking: now you can connect through Steam to friend games using a list on the Main Menu.
-New "Waste Disposal"(Sewer) map
-New "Caduceus" map
-The newly added Janitor Office
-Redesigned punch-out system, far more interesting now!…also makes punching-out a no return choice.
-Glorious dead worker bodies to clean up. Extra creepy worker bodies mind you.
-Movable and burnable body-bags!
-Many glorious fixes and improvements.
-Mad writings intended to destroy your mind!

And in-case you are somehow foolish enough to not be interested, we've got you covered…in blood.






And that's that for now, Mr.Waddles clocking-off!
--------------------------------------------------------------

--------------------------------------------------------------

I come with good tidings, after a long wait in the void between death and undeath, we bring you a glorious update.

Recent advances in janitor based technology, due in no small part to the research done by the company's mining department, have resulted in a new, overpowered and potentially destructive device for use by all janitors with the aim of repairing bullet hole dotted walls.

The new Welding Laser will allow janitors to not only patch bullet holes, but also make new holes! Modern technology eh, wondrous stuff. Janitors are required to safely follow company regulations, and not burn everything in sight once the evil machine spirits have possessed you.


The game now also features the much desired Save Game system! No longer will janitors have to be oppressed. They can eat a cheese burger or burrito along with their Jingo-Pop, and management will be none the wiser…unless they leave evidence, which would be rather stupid of you.

This version also comes with a great deal more fixes and improvements!
See for yourself!
Major:
-Save system (players can now save the game and return to it later)
-Plasma welder (patch up bullet holes, destroy objects, make a mess)
-64 bit exe
-Improved physics & networking
-Lots of fixes
Game:
-Added save game system which allows you to save your cleaning progress for later.
-Fixed bloody footprints not working in Zero-G Therapy.
-Fixed incinerator doors not having any effect on burn rate
-Made trunk objects not count as mess (on punchout)
-Same for incinerator
-Made lantern more robust
-Added welding laser
-Objects can be burnt or melted by welding laser and fire
-Scanner now treats scorches and bullet holes as non-blood mess
-Bullet holes in Med Bay and Splatter Station
Misc:
-Updated VCD to UDK 2013-07
-Prevented spawning scorch decals on incinerators
-Fixed 2 hand items using 1 hand pickup anim
-Fix for janitor colors reset on death
-Made briefing screen show up when respawning
-Implemented splat and debris limiter options
-Fixed Bin showing a tiny bit of yellow when spawned in bin machine
-Fixed jump weapon impulse
-Fixed 'G' key making weapon disappear
-Implemented 3rd person anims based on current tool
-Improved rotation of fire spawned scorch marks
-Fixed Scorches not washing out correctly
-Splash screen
-Various other fixes and improvements
Maps:
-Gave each map a unique briefing message.
UI:
-Fixed random exit messages not being selected.
-Fixed Tooltips appearing behind options on the mid-game menu.
-Fixed recently selected colors in the Color Palette not being saved.
-Added new scaleability settings to UI, including Shadow Quality and Antialiasing.
-Added Ambient and SFX sound volume settings.
-Added a UI setting for MS-Sam (Text to Speech)

This version, like the former, is only available to those who have purchased VCD, so if you haven't done so already, then perhaps you should. For a small $7.00 fee you get to cleanup the mess of others, who can say no to that!
Pre-Order now!

Otherwise, if you have already purchased it, be sure to check your Humble Store account for the download!
On another note, VCD will be making its way to Steam Early Access, so be sure to keep an eye(or two) out for that!
And when I say out, I don't mean pull your eyes out of their sockets, that would be…eeeh, creepy to say the least, you freak!

Now feast your eyes(if they are still there) on these delicious images(no they are not edible, get help!).







I'm afraid I may have lied, there are in fact no burritos, but I sure got your attention, eh, eh!..ahem
--------------------------------------------------------------

--------------------------------------------------------------

Our initial plan for 2014 was to have time end on the 31st of December 2013. As it turns out, there was betrayal, things were said, contracts with certain deities were severed and now we have to roll with the hastily concocted "Plan B".
First up, we're working on fixes for the most troublesome problems in Viscera Cleanup Detail and its bonus editions. We're hoping to be able to release updates weekly even if they only include fixes and the mostly uninteresting changes of the week. An update for the most pressing problems in VCD: Santa's Rampage is scheduled for the end of this week. VCD: Shadow Warrior and full VCD will also be getting updates of course.
The next major step is getting VCD on Steam Early Access. It will involve a general polishing and sanding off the worst rough edges of what we already have – maybe there'll be some new content too, we can't seem to resist feature creep! That's aimed at mid February.
Alongside VCD, we're also going to be bringing RooksKeep to Steam now that it has been greenlit. The biggest change will be using Steamworks for the multi-player matchmaking and other online jazz. There'll also be the usual raft of fixes and improvements.
All that has to happen at the same time as setting up some super serious business funk to vacuum up time and generate disruptions. Oh, and also experimental prototypes.
As for the finger puppets, we're keeping those plans secret until the time is right to unleash the devastating fury on an unsuspecting world…
--------------------------------------------------------------

--------------------------------------------------------------

The way we have been working is not sustainable, especially the crunches just before release. Several days on my work log peaked over 15 hours and that is not really sane. …And that log doesn't count lunch or any other breaks as work time (unless lunch is eaten with the other hand on the keyboard)
There has been a lot of this crunching because there have been many releases.
Going back to June, we finally pushed through to get Rooks Keep released which was met with a pretty depressing reception. That was not really surprising. We realised as development dragged on that it was a mistake to make such a big game with no clearly communicable hook, but we wanted it done.
Very shortly afterwards, born from a thread of otherwise rather cynical contemplation, inspiration struck and we dove into Viscera Cleanup Detail.
After that we had the deal to do VCD:Shadow Warrior and that took longer than expected. Following that a major update for VCD and the insane idea of VCD: Santa's Rampage came up. We could either cram it in before Christmas with a very tight deadline or wait a year (yeah, that'd work…)
We crunched to get VCD v0.2 on the date we'd set for the end of November and went straight into VCD:SR for 2 more weeks. Arn started working on Santa after regular VCD work and I gradually started as VCD v0.2 neared its target. It wasn't all *gruelling, but it was not healthy and the team needs a break.
All in all, it has been a pretty punishing schedule and it was all compounded by my eye surgery and subsequently complicated recovery which devoured lots of time before and around VCD:SW.
However, time management has been steadily improving – we somehow got 5 significant releases out on schedule in the last 6 months – but it's not nearly good enough.
Getting this right is a major focus of mine for the coming year. Properly spacing out milestones and being disciplined about feature creep is going to be challenging, especially since 'feature creep' introduced some of the most interesting elements of VCD. Allowing space for unexpected changes and time to experiment will need to be done. This is challenging because it is planning around the unknown, combined with the perpetual certainty that there is not enough time to do everything already on the list.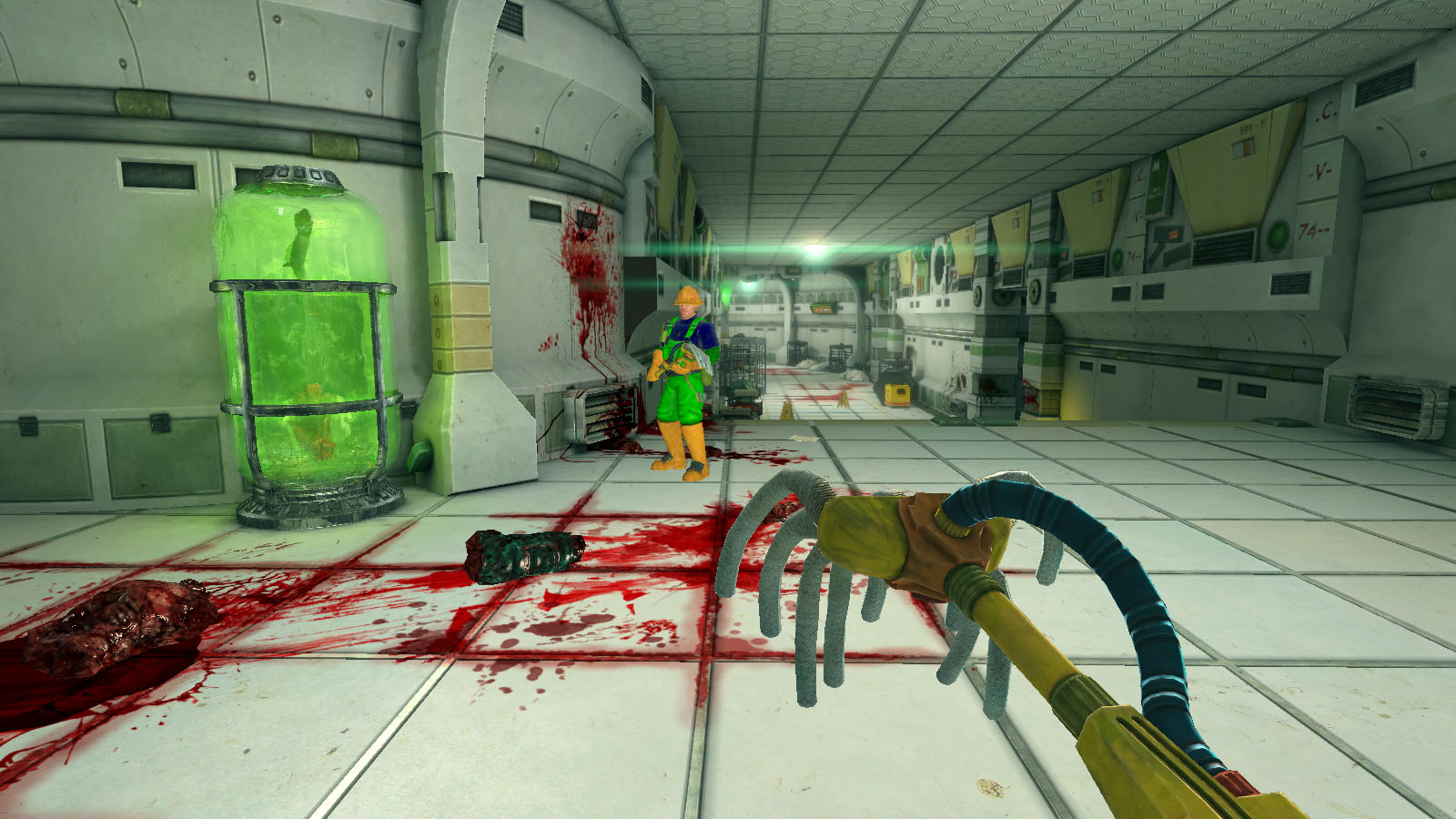 It is also vital to make sure there is time to continue experimenting with new prototypes. Game jams and experimental projects are not just a way for studios to possibly scoop a new hit, for indies, I feel they are essential to long term survival, because the ability to produce crazy, unique and unconventional games is one of our best edges compared to big studios with massive production capacity. Making one new crazy game that stands out is great, but once that becomes old and done, we need to have something new up our sleeve and it better be damn good and it better not be the same as everything else. In order to reach that, many prototypes must be produced and discarded in the process. Somehow, those have to be produced while still developing the main, proven games.
That will be an interesting challenge and it won't happen at once. It will be a continuation of the process that has (I think) been evolving and improving. I will just put more concious effort into it and try to push myself to better understand where the limits of the game development process are for us.
TL:DR – Less burnt-out devs, more crazy stuff, time will kill us all – don't say I didn't warn you!
*some of it really was; fucking physics, yeah you!
--------------------------------------------------------------

--------------------------------------------------------------

Yule Tide greetings, staff, we bring glorious tidings, though it may forever change your view of Christmas, Viscera Cleanup Detail: Santa's Rampage is here for all to enjoy on Steam!

Watch this Trailer of utter perfection to convince you of Santa's dark fallout.


"Tragedy! Santa; the toy giving folk-hero, and purveyor of fine Christmas goods, has had enough. Endless requests from greedy children wanting more and more every year, tax increases, pressure from elf unions, bills, reindeer!
It is your duty, as an employee of Polar Sanitation Inc, to clean up the grizzly aftermath of Santa's bloody rampage. Elves, reindeer and ruined masonry from Santa's brief breakdown are all strewn across his famous workshop.
So don your cap, grab your mop, and get this place sorted out so the company can get a replacement in here ASAP, and restore Christmas for another generation!"

Some of the key elements in this glorious creation are(beyond normal VCD levels):
-Explore Santa's Famous(now infamous) Workshop, many secrets it holds.
-Discover the sad yet ludicrous tale of what went down and led to the Workshop's current state.
-Pick up poor dead physics simulated elves with smiling faces, yes, smiling faces!!
-Hidden Steam-Keys to some truly awesome Devolver Digital games!
-Many interesting interactive items that will surprise and horrify.
-Steam Achievements!
-Ludicrous oddities, and RuneStorm paraphernalia.

You can buy this glorious yet maniacal artifact for just $1.99 right now! Or if you Pre-Order the full Viscera Cleanup Detail game, you get it free!
Pre-Order now!

Otherwise, if you have already Pre-Ordered VCD, be sure to check your Humble Store account for the download!
Here are all the glorious images you must feast your eyes upon.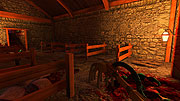 --------------------------------------------------------------

--------------------------------------------------------------

In a truly grand turn of events, Rooks Keep has found its way out of the sea of Steam Greenlight admissions and been Greenlit!

Huge news, very huge!

Once we're no longer overwhelmed and this year is over, we shall work on getting Rooks Keep onto Steam, and with that we should be able to cure RK's troublesome connection issues once and for all!

So hold fast loyal rogues and squires alike, interesting times lie ahead, very interesting. ]:)

And lastly, a huge thanks to everyone who voted for Rooks Keep!

--------------------------------------------------------------

--------------------------------------------------------------

Greetings Staff, well it has been a long long time in the making, but finally it's here, Viscera Cleanup Detail's Medical-Bay!

This level represents a significant step forward from the previously seen levels, which were more examples than focused environments.

With the Med-Bay, you'll get to cleanup after some really sinister stuff went down, a crazed doctor has strayed from normality and birthed some abominations upon the facility!

The Med-Bay is only available to those who have purchased VCD, so if you haven't done so already, then you really should now, for a small $7.00!
Pre-Order now!

Otherwise, if you have already purchased it, be sure to check your Humble Store account for the download!

And, in case you were feeling a sense of doubt, perhaps this list of main features will sway your foolish mind!
-Near-Fully realized evil medical facility
-Mutant Viscera and limbs!
-New Blood decals, and a more vivid placement
-Notes\PDAs: Readable notes you can pick up to tell the story
-Alternate water sources (Toilets, Toilets, TOILETS!!!)
-The Vending machine to 'import' items into the level
-Interactive 3D control panels
-A new and delicious and 3D Front-End(Main Menu) level
-50 Gajumbazillion possible character colors for use in MP!
-Inner voices of MS-Sam forever silenced
-Many more cool stuff you'll have to find on your own

--------------------------------------------------------------

--------------------------------------------------------------

Attention Janitors, attention!
New union regulations have brought janitors together like never before!
All restraining orders keeping Space-Janitors and Yakuza cleanup crews away from each other have been dropped, and they can now frolic together in a blissful splash of blood, viscera and a hard day's labor.
Viscera Cleanup Detail: Shadow Warrior edition now comes free with any purchase of the regular Viscera Cleanup Detail game. So any of you who happened to pre-order VCD will get to download and play the Shadow Warrior edition for free!

Anyone who has already pre-ordered through the Humble Widget can check their email for their Steam-Key.



If you haven't pre-ordered regular VCD already, then I suggest you do now…or some angry union representatives will pitch up at your house and get medieval on yo ass with a bamboo mop!…no pressure
Pre-Order now!

Here is some irresistible footage to sway your hand toward the dark-side!






--------------------------------------------------------------