--------------------------------------------------------------

Yule Tide greetings, staff, we bring glorious tidings, though it may forever change your view of Christmas, Viscera Cleanup Detail: Santa's Rampage is here for all to enjoy on Steam!

Watch this Trailer of utter perfection to convince you of Santa's dark fallout.


"Tragedy! Santa; the toy giving folk-hero, and purveyor of fine Christmas goods, has had enough. Endless requests from greedy children wanting more and more every year, tax increases, pressure from elf unions, bills, reindeer!
It is your duty, as an employee of Polar Sanitation Inc, to clean up the grizzly aftermath of Santa's bloody rampage. Elves, reindeer and ruined masonry from Santa's brief breakdown are all strewn across his famous workshop.
So don your cap, grab your mop, and get this place sorted out so the company can get a replacement in here ASAP, and restore Christmas for another generation!"

Some of the key elements in this glorious creation are(beyond normal VCD levels):
-Explore Santa's Famous(now infamous) Workshop, many secrets it holds.
-Discover the sad yet ludicrous tale of what went down and led to the Workshop's current state.
-Pick up poor dead physics simulated elves with smiling faces, yes, smiling faces!!
-Hidden Steam-Keys to some truly awesome Devolver Digital games!
-Many interesting interactive items that will surprise and horrify.
-Steam Achievements!
-Ludicrous oddities, and RuneStorm paraphernalia.

You can buy this glorious yet maniacal artifact for just $1.99 right now! Or if you Pre-Order the full Viscera Cleanup Detail game, you get it free!
Pre-Order now!

Otherwise, if you have already Pre-Ordered VCD, be sure to check your Humble Store account for the download!
Here are all the glorious images you must feast your eyes upon.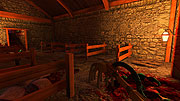 --------------------------------------------------------------

--------------------------------------------------------------

In a truly grand turn of events, Rooks Keep has found its way out of the sea of Steam Greenlight admissions and been Greenlit!

Huge news, very huge!

Once we're no longer overwhelmed and this year is over, we shall work on getting Rooks Keep onto Steam, and with that we should be able to cure RK's troublesome connection issues once and for all!

So hold fast loyal rogues and squires alike, interesting times lie ahead, very interesting. ]:)

And lastly, a huge thanks to everyone who voted for Rooks Keep!

--------------------------------------------------------------

--------------------------------------------------------------

Greetings Staff, well it has been a long long time in the making, but finally it's here, Viscera Cleanup Detail's Medical-Bay!

This level represents a significant step forward from the previously seen levels, which were more examples than focused environments.

With the Med-Bay, you'll get to cleanup after some really sinister stuff went down, a crazed doctor has strayed from normality and birthed some abominations upon the facility!

The Med-Bay is only available to those who have purchased VCD, so if you haven't done so already, then you really should now, for a small $7.00!
Pre-Order now!

Otherwise, if you have already purchased it, be sure to check your Humble Store account for the download!

And, in case you were feeling a sense of doubt, perhaps this list of main features will sway your foolish mind!
-Near-Fully realized evil medical facility
-Mutant Viscera and limbs!
-New Blood decals, and a more vivid placement
-Notes\PDAs: Readable notes you can pick up to tell the story
-Alternate water sources (Toilets, Toilets, TOILETS!!!)
-The Vending machine to 'import' items into the level
-Interactive 3D control panels
-A new and delicious and 3D Front-End(Main Menu) level
-50 Gajumbazillion possible character colors for use in MP!
-Inner voices of MS-Sam forever silenced
-Many more cool stuff you'll have to find on your own

And why not a few tasty images to correct your mind.





--------------------------------------------------------------

--------------------------------------------------------------

Attention Janitors, attention!
New union regulations have brought janitors together like never before!
All restraining orders keeping Space-Janitors and Yakuza cleanup crews away from each other have been dropped, and they can now frolic together in a blissful splash of blood, viscera and a hard day's labor.
Viscera Cleanup Detail: Shadow Warrior edition now comes free with any purchase of the regular Viscera Cleanup Detail game. So any of you who happened to pre-order VCD will get to download and play the Shadow Warrior edition for free!

Anyone who has already pre-ordered through the Humble Widget can check their email for their Steam-Key.



If you haven't pre-ordered regular VCD already, then I suggest you do now…or some angry union representatives will pitch up at your house and get medieval on yo ass with a bamboo mop!…no pressure
Pre-Order now!

Here is some irresistible footage to sway your hand toward the dark-side!






--------------------------------------------------------------

--------------------------------------------------------------

Greetings custodians of the galaxy!
It's time for another proper ketchup for VCD. What follows is an update of where VCD is now and some of the new content, and our thoughts on when we plan to get onto Steam.
So then, to the data log!
Med-bay:
Work goes on with the med-bay, which nears environmental completion now. Just take a look at the shots!
The med-bay was witness to some pretty evil science, hybrid mutant abominations and similar medical experiments. The map will reflect this story of evil science creating what they shouldn't have.






--------------------------------------------------------------

--------------------------------------------------------------

Attention all workers, the station has been infected with a new and improved organism in the mock form of an alpha update, if you see it, alert security immediately. Do not be fooled by its innocent appearance, it is deadly!
Yes, well with that departure from normal proceedings out of the way, let's list a run down of the major changes in this build.
Firstly we've taken big steps to improve the multiplayer syncing, and it's running much much smoother now.
We have also reduced the chances of things ever falling out of the world and being unreachable.

Mops now clean up multiple splats at once, and they don't disappear instantly.
Also in this update we see the punchout machine not only properly working, but also with a new mesh and interactive UI.
And many more things, here is the full changelog:

-Added fire spawning from broken lanterns
-Fix for buckets showing water after being spilled
-Punchout UI is now on an interactive screen on the Punchout machine, which also has a proper mesh
-Mop cleans multiple nearby splats at once
-Removed shadow casting from machine hatches
-Fixed divide-by-zero causing glowing white water
-Tuned the muck detector, it's now much more usable
-Fixed mop not recognising using splat sizes
-Fixed bucket water plane – now stays level and doesn't stick through the bucket
-Changed machine jamming limiter to use spree detection instead of time
-Player now bumps physics objects (bin, bucket, etc) when walking into them
-Added mechanism to prevent debris passing through world geometry
-Improved stuck debris culling mechanism
-Decreased number and rate of footprints from walking in blood
-Adjusted bucket and mop saturation limits
-Sped up debris light environment updates
-Fixed spinning view problem when standing on moving objects (Note: management considers 'barrel surfing' inappropriate behaviour for janitors)
-Replaced splat and debris actors in maps with newer, more virtuous kinds of actors
-Numerous fixes and improvements to debris replication and syncing in multiplayer
-Added blood footstep sound
-Improve hold distance and handling of horrid metal sheets and other objects
-Improved object holding and transform – off-center issues
-Made client players not die and leave corpses when clocking off
-Players can respawn if they die in single player
-Fixed the Map list closing when clicking the scrollbar.
-Fixed 'Escape' key not closing Map-List when it's in focus.
-Fixed repeated 'highlight' sounds from playing when cursor moves over Key-Bindings.
-Changed and refined all UI styling.
-Added an 'Always Run' setting to options menu.
-Added Viscera sign to Main Menu and In-game Menu.
-Moved Options to its own menu.
We are also still working hard on the med-bay, many new features currently working or being worked on will present themselves once the Med-Bay is operational, this will feature a more specific focus and increase of current VCD mechanics. Until then, clean on noble latex-warriors!

Download

Also, do pre-order Viscera Cleanup Detail now for $5 while you can, or risk going without your safety respirator!
Pre-Order now!
--------------------------------------------------------------

--------------------------------------------------------------

Greetings, humble greetings fellow custodians. It has been far too long since we last shuffled into the staff room.
However, we have by no means been slacking off behind the crates again! No, we've been working on a little mini-game crossover of VCD together with Devolver Digital and Flying Wild Hog. We bring you "Viscera Cleanup Detail: Shadow Warrior".
Available to all who've purchased the new Shadow Warrior. You'll get to cleanup one of the most iconic katana battle scenes of the game, with certainly over an hour's worth of cleaning time, and various little surprises.
It also comes with various changes to normal VCD content, and some additions themed along the lines of Shadow Warrior, drawing on its universe to create some unique surprises. Even your trusty space mop has been replaced with a wonky-at-best bamboo mop!
It features some newer fixes and features that will be making an appearance in normal Viscera Cleanup Detail in due time, as well as 2 achievements.
A fair bit of the work we've done on VCD:SW will find its way into the next, and or following VCD updates as we start to release them regularly once again.
And on that note, work continues on the previously mentioned Medical-Bay, we've refined its concept and are now working hard on getting it well fleshed out ASAP, it will feature various advances from previous VCD levels, and some other interesting elements.
We apologize for the terrible delay with news, we have been just too caught up with VCD:SW, and sworn to secrecy until now.
Have these fine links, and do consider buying the new Shadow Warrior, it's a great game, and if for no other reason, it comes with VCD:SW!
As ever, please consider pre-ordering regular Viscera Cleanup Detail for $5 while you can if you haven't already!
Pre-Order now!
--------------------------------------------------------------

--------------------------------------------------------------

Welcome to headquarters. Today we'll discuss some new hardware our tech division has put into production pertaining to the fields of mess-cleaning.
We present the latest invention, code named the 'Sniffer'. Its sensitive and specialized nose can detect and seek out messes you've left behind, making it easier to reach for that promotion you always wanted, and maybe even that elusive employee of the week plaque!
All the details and more can be found in the release brochure.
Business aside, this is only a small update, as most of our work has been spent on various other features that are just not quite ready enough right now, but will hopefully be in the next update.
As ever, please consider pre-ordering while the price is still $5 kajiliwoppers.
Pre-Order now!
--------------------------------------------------------------

--------------------------------------------------------------

Hail ya'll!
So, we've been plenty busy on Viscera Cleanup Detail since it was Greenlit (thanks again!!). We'll be getting another update out soon, but in the meantime, here is a progress report on what's been going down.
—–
We've got a bunch of new systems in progress which are functioning already (but need plenty of polish still). These are:
-Bullet holes/scratches/etc and support for repairing them with a laser tool. The laser can also make it's own holes if you're clumsy


-Fires. These can breakout when smashing lanterns or overworking your laser tool. This will be expanded as we go.
-Vending machine. Here you can order new pieces of equipment. This is still in it's infancy, but it's going well. It even has a nifty "on machine" UI.
-Scanner. This little tool can help you detect shell/bullet casings and viscera.
Other things:
-Radio. Fairly straightforward but adds some atmosphere. Next step is for us to find the right sounds for it to broadcast


-Key bindings. Yep!
On the content side, we've been working on the new "medical bay" environment. We've got a whole bunch of meshes complete, but more to go still, and plenty of textures.
Here are some shots of it's basic structure and look, still very much subject to change. Also, there are many meshes not yet added in

And there we go! We'll try and be more consistent with these progress reports from here on
Thanks everyone!
As ever, please consider pre-ordering it while you can!
Pre-Order now!
--------------------------------------------------------------

--------------------------------------------------------------

Hooray!
We've done it, Viscera Cleanup Detail has officially been greenlit by Valve and Steam Greenlight.
A huge thanks to everyone who voted! We'll be working hard to get the game finished and improved, and we've got plenty more to come!
--------------------------------------------------------------